Get your sweaters and cozy pyjama pants out baby! The fresh weather is here. What I feel like eating is VERY weather dependant, and even though a month ago I was keen on hearty healthy salads, now I'm into warm and nourishing cold-weather soups.
Making soup is easy and in one cooking session you can make food to last the whole week. Soup is cozy, nutritious, attractive, and helps get in those servings of vegetables. You can serve soup with crackers (try these awesome homemade gluten-free chickpea flour crackers) and cheese (if you eat dairy), or hummus is a great option too. Here's a recipe for an easy red lentil garlic hummus with olive oil.
Anyways, soup. The options below are all dairy-free, and in general most soups are naturally gluten free. And, soups can easily be made paleo or vegan depending on the broth you choose (and of course, whether or not you add meat).
I've chosen the soups below for variety, and for their healing, immune-boosting, mug-sipping possibilities. We have onion soup, garlic soup, chicken soup, butternut squash soup, tomato soup, miso soup (good to find opportunities to fit in some seaweed), sweet and soup soup, and more. Also, look out for the bonus recipe at the bottom: chocolate dessert soup (well, okay, it's pudding).
Note that bone broth is a really nourishing choice for gut and skin health (something we always talk about on the blog, and especially relevant for acne struggles), so if bone broth is something you eat, using that as your soup base can add an extra healing boost to your meal. I've included a recipe for a basic bone broth in the group below. I've also included a vegan bone broth recipe. Oxymoron, I know. The minerals and collagen/gelatin in the bones are what make bone broth what it is. BUT, sipping a nice healing, immune-boosting brew is what my vegan followers might like too, so take a look at the broth recipe below and see what you think. Not the same from a gut-healing perspective, but a nice nutritive broth to enjoy all the same.
Enjoy, and Happy November!
(As with my hearty healthy salads post, all photos are credited to their respective authors, and I've linked out to all original blog posts.)
15 Warm and Nourishing Fall & Winter Soups (options for paleo, vegan, gf)
1. Vegan Sweet Potato and Quinoa Chili* (v, option for gf) – Eat Well, Live Vibrantly
*yes, ok, this is not a soup – but it is a meal you eat in a bowl! And it's warming and nourishing. So, I included it.*
2. Curried Butternut Squash Soup (v, gf, paleo) – Minimalist Baker
3. Healing Paleo Chicken Soup (gf, paleo) – Living Well Mom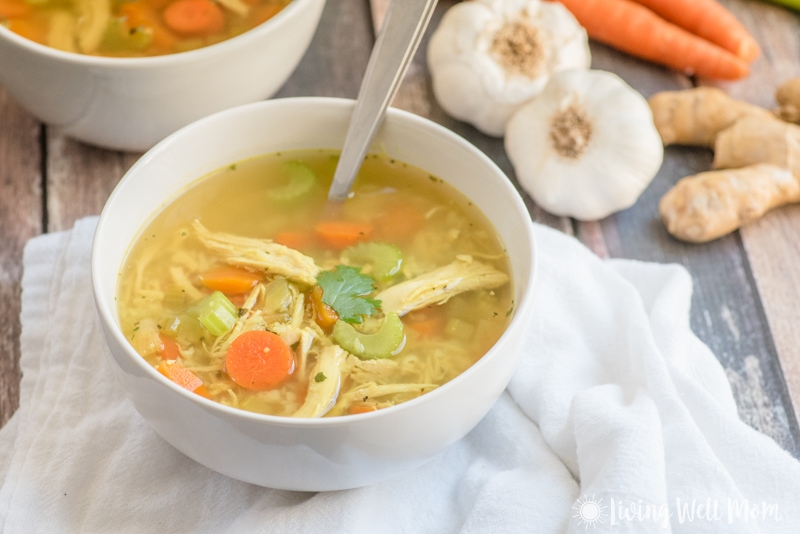 4. Forty Garlic Clove Soup [for Colds & Flu] (paleo, gf option, v option) – Italian Food Forever
5.  West African Peanut Soup (v, gf, paleo) – Cookie and Kate
6. Classic Miso Soup with Tofu (v, gf) – Minimalist Baker
7.  Easy Vegan Cream of Tomato Soup (v, gf, paleo) – Feed Me Phoebe
8. Slow Cooker French Onion Soup (paleo-option, gf option) – Lexi's Clean Kitchen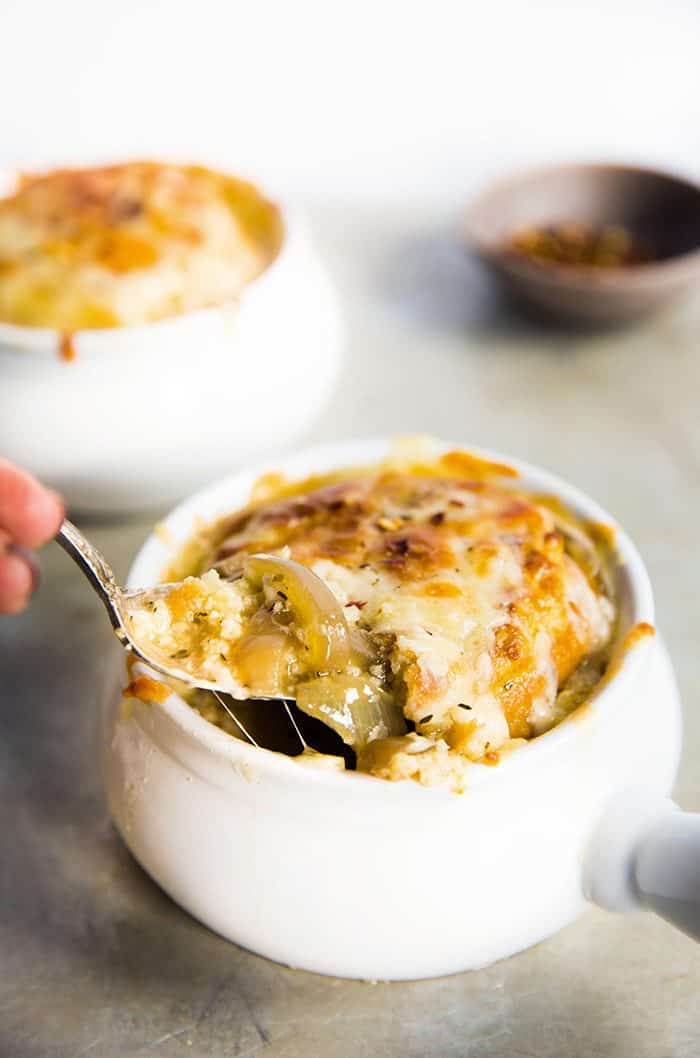 9. Easy Vegan French Onion Soup (v, gf option) – Elizabeth Rider
10. Detox Beet Soup with Coconut Milk (v, gf, paleo) – Paleo Hacks
11. My Favourite Borscht Soup (v option, gf, paleo option) – Eat Drink Paleo
12. Vietnamese Sour Soup (gf, vegan, or click here for a chicken version)  – Cilantro & Citronella
13. Easy Paleo Mushroom Soup (gf, paleo) – Elena's Pantry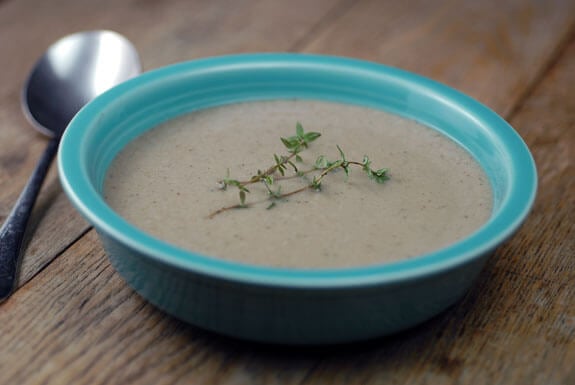 14. Gut-Healing Bone Broth (gf, paleo – substitute other bones for different broth types) – Paleo Hacks
15. Vegan Vegetable "Bone" Broth (v, gf, paleo) – Reboot with Joe (only a teeny picture for this one!)
BONUS RECIPE! For dessert….
Chocolate soup, also known as...Vegan Dark Chocolate Pudding (v, gf, paleo) – Texanerin Baking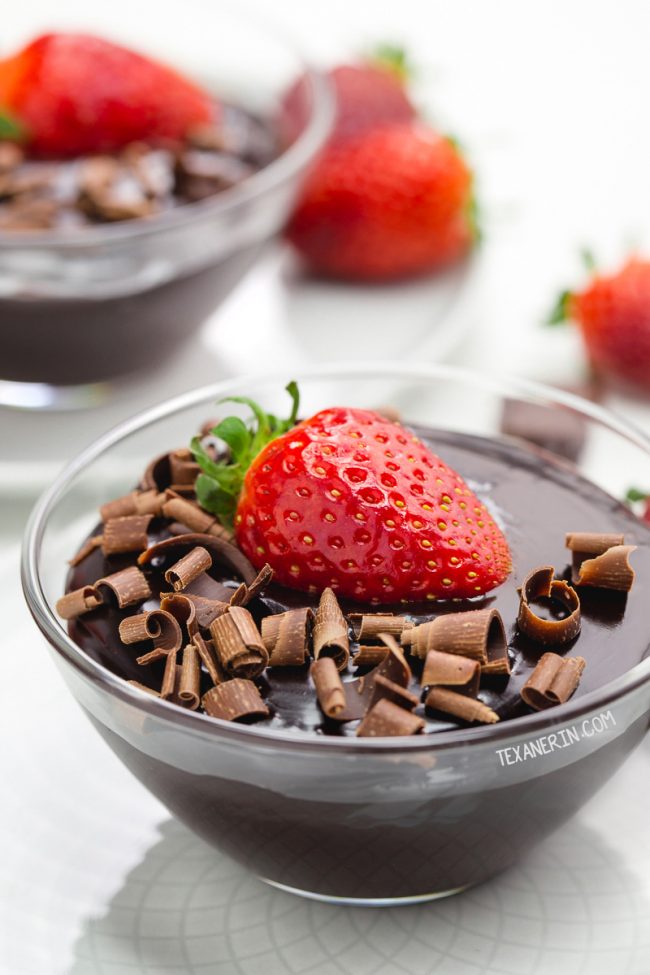 © Emily Joldersma, R.H.N. Eat Well, Live Vibrantly