If you're anything like me, you find yourself in meal transition in September & October. You're not yet ready for the seemingly endless days of roasted root vegetables that come in winter, but the light flavours of summer don't seem entirely satisfying either.
This is when it becomes all about the hearty autumn salad. With greens still in season (usually the heartier ones, like kale), and the first beautiful squashes of the year now gracing the farmer's market, you can make wonderful, hearty, healthy salads that still give your body the vitamins and antioxidants and freshness of the summer, but are a little more grounding and earthy too.
And when I think grounding and earthy, I'm thinking pecans, maple syrup, Brussels sprouts, carrots, tamari, apple cider vinegar, ginger, beets, butternut squash, sweet potatoes, kale, smoked tofu, roasted potatoes, toasted sunflower seeds. You know what I'm talking about – a salad that's like autumn in a bowl. When I was looking for salads for this post, I specifically sought out the ones that matched my mental image of a hearty fall salad and quite frankly, I might just cook my way through these for the next month.
In some cases, the protein is suggested and in others you can add what you'd like: animal protein, tempeh, tofu, chickpeas. Whatever works for your diet and best health.
And as always, remember that all whole foods offer numerous health benefits for your skin and hormones. In Autumn we have the joy of eating lots of cruciferous vegetables like Brussel sprouts, cauliflower, and broccoli (great for liver health and for balancing hormones like estrogen) and healthy complex carbs like squash and beets, which are more supportive of balanced blood sugar and therefore of clear skin.
So take a look and get some supper inspiration! I've linked out to all the salad creators (all photos come from the respective authors), and added dietary notes so you know what the salad offers (note that paleo inherently means gluten-free).
13 Hearty Healthy Salads for Autumn! (options for paleo, gf, v)
1.Creamy Spinach Salad with Roast Potatoes, Avocado, and Maple Tempeh (v, gf) – Eat Well, Live Vibrantly
2. Kale Beet Detox Salad (paleo, v, gf) – Meghan Livingstone
3. Roasted Mushroom & Romaine Salad (v, gf) – Cookin Canuck
4. Fall Harvest Chopped Salad with Apple Maple Vinaigrette (paleo) – PaleOMG
5. Blissed Out Thai Salad with Peanut Tempeh (v, gf) – Minimalist Baker
6. Kale Salad with Butternut Squash, Chickpeas, and Tahini Dressing (v, gf) – Foodie Crush
7. Late Autumn Shaved Brussels Sprouts Salad (paleo, v) – The Endless Meal
8. Butternut Bliss Fall Salad (v, gf) – Healthy Happy Life
9. Fall Harvest Salad with Apple Cider Vinaigrette (v, gf) – With Salt & Wit
10. Kale Chicken Caesar Salad (paleo) – Paleo Running Momma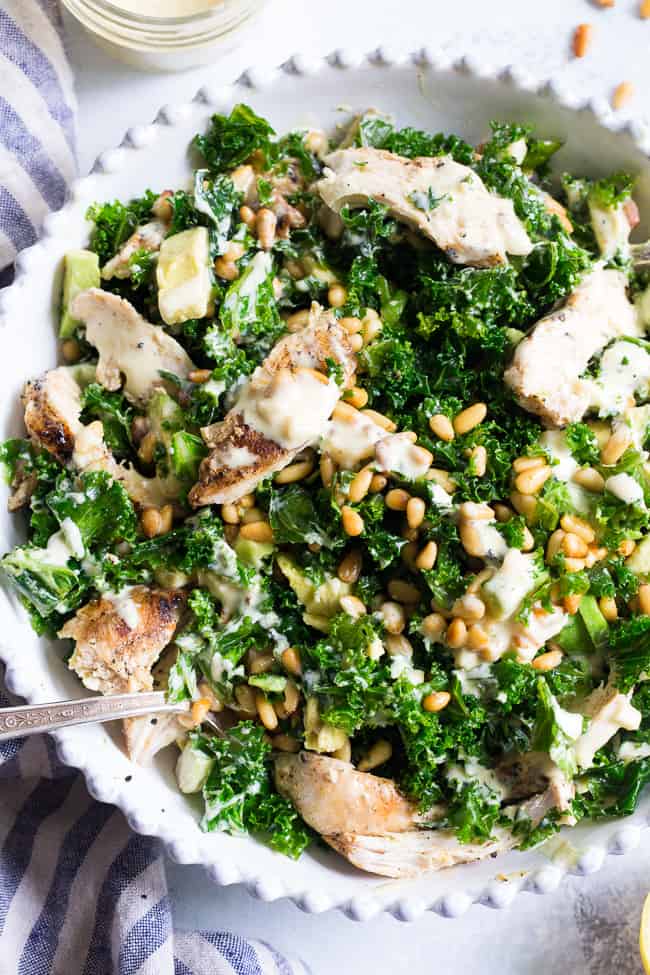 11. Vegan Kale Caesar Salad with Garlic Roasted Chickpeas (v, gf) – Detoxinista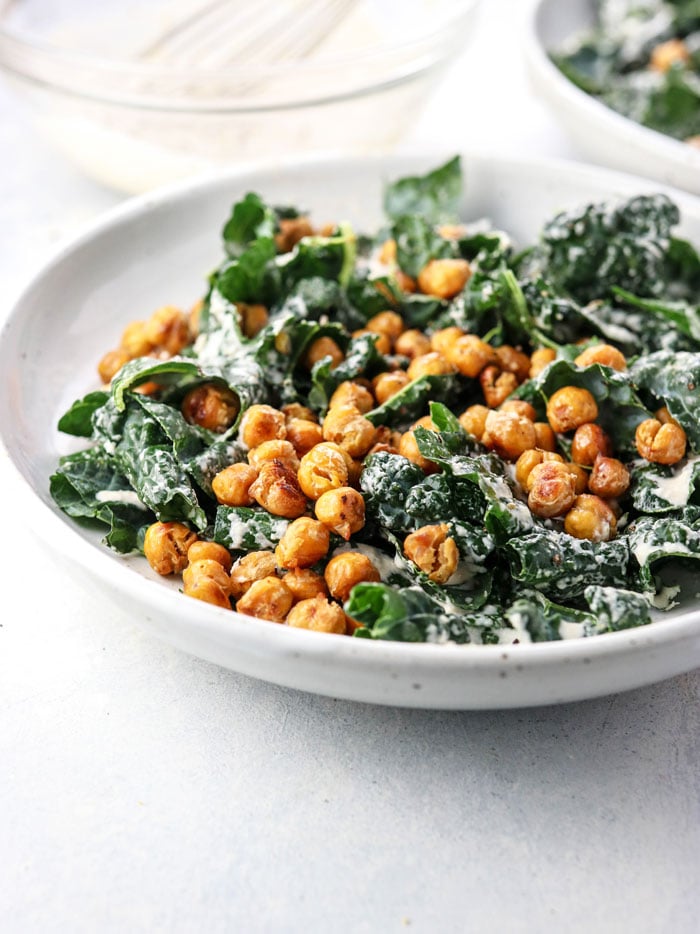 12. Sweet Potato and Kale Salad with Barley, Dried Cranberries and Smoked Tofu (v) – Eat Well, Live Vibrantly  *If you are gf, try it with quinoa or wild rice*
13. Fall Harvest Salad with Pumpkin Vinaigrette (paleo) – Wholesomelicious
Enjoy and Happy Autumn! Leave any other suggestions you have in the comments.
Until next time!
© Emily Joldersma, R.H.N. Eat Well, Live Vibrantly